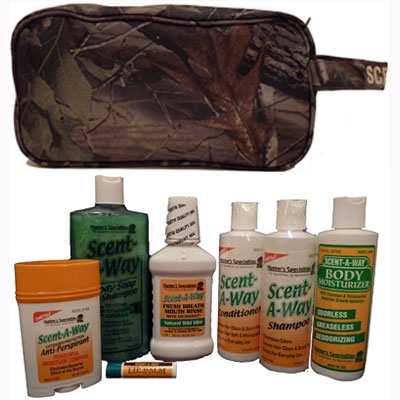 Product: HUNTERS SPECIALTIES SCENT-A-WAY SHOWER KIT
Regular Retail Price: $44.99
Camofire Price: $16.75 – 63% OFF
Description:
Just because you hunt hard and are serious about getting after it in the hills doesn't mean you have to don't need to shower. More importantly, it's what you shower with leading up to the hunt and during that will help spell success and keep the wind in your favor. This shower scent elimination kit from Hunter's Specialties is a must have for the serious hunter.
It includes one of each of the following items:
12oz liquid body soap.
8oz shampoo.
8oz conditioner.
2.25oz antiperspirant/deodorant.
.15oz all natural lip balm.
8.4 fl.oz. fresh breath mouth rinse.
8oz after shower body moisturizer
You get all 7 items in a shower carry case made with Realtree AP Hardwood camo. Stop making excuses for your hunt and be prepared with the Scent-a-way shower kit.
—
Got something to say about the HUNTERS SPECIALTIES SCENT-A-WAY SHOWER KIT? Tell the world by commenting below.