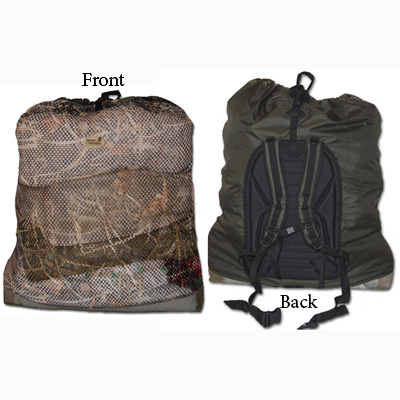 Product: HUNTER'S SPECIALTIES FLOATING DECOY BAG
Regular Retail Price: $64.99
Camofire Price: $24.99 – 62% OFF
Description:
Fish net bags with draw strings and nothing else are a thing of the past when it comes to carrying your decoys. At least they will be once you shoulder the Hunter's Specialties Floating Decoy Bag. This square bottom decoy bag is built tough from PVC-coated 600-denier polyester with a PVC-coated mesh bottom for drainage and so your deeks will dry out.
THE COLOR IS ACTUALLY MAX 4 PATTERN CAMO.
These bags include a padded back with adjustable shoulder straps with a sternum strap and waist belt so that the walk from your truck to the blind is easy and comfortable. Plus if you spot a couple of green heads you won't have your hands full of decoys. Each bag also has 2-man carrying straps so your buddy can help haul the bag, especially if you load up the bag with extra rounds, food and a few comfort items for the blind. You'll have these bags for years since the outer material is tough and will stand up to abuse.
Duck season may be 6 months off but prepping for it now by getting a top notch floating blind bag from Hunter's Specialties is your first preparation.
—
Got something to say about the HUNTER'S SPECIALTIES FLOATING DECOY BAG? Tell the world by commenting below.