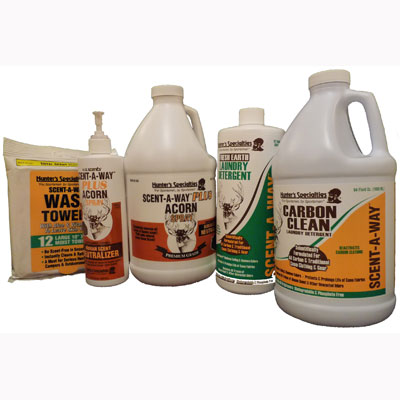 Product: HUNTERS SPECIALTIES CLEAN SCENT KIT
Regular Retail Price: $55.15
Camofire Price: $17.65 – 68% OFF
Description:
There's nothing worse than getting winded by that Pope and Young Whitetail when it seems like everything is in your favor…except you forgot the details like scent elimination. With the Hunter's Specialties Clean Scent Kit you'll take care of your clothing at home, in the field and then any exposed skin. From head to toe this kit will elmniate your odors and your excuses.
The Carbon Clean and Fresh Earth laundry detergents offer you two approaches to getting your clothing clean while removing all traces of human scent. They also help protect and prolong the life of your camo by preventing fading.
Next is the Acorn permium grade spray in a 64oz container with a 12oz spray bottle. Spray this on your clothing when you leave the truck or head out to hunt while camping. Aside from removing all traces of human scent by neutralizing it, but it also adds a natural acorn cover scent.
Lastly are the wash towels which contain 12 towels 10″x12″ in size. These both eliminate smell but also the grime and dirt that builds up while hunting and camping. This clean kit is for the serious hunter and will help stack the odds in your favor this coming season.
—
Got something to say about the HUNTERS SPECIALTIES CLEAN SCENT KIT? Tell the world by commenting below.