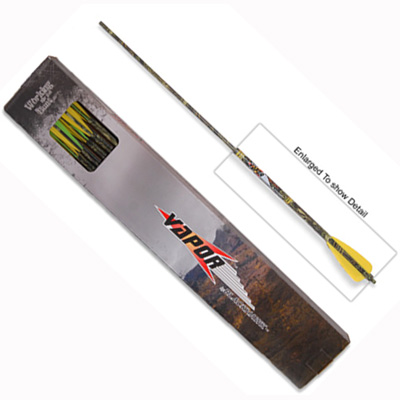 Product: GOLD TIP BLACKHAWK VAPOR PRO 5000 12 PACK ARROWS
Regular Retail Price: $79.99
Camofire Price: $25.55 – 68% OFF
Description:
The Blackhawk Vapor Pro 5000 Arrows are a super hard hitting hunting arrow that won't let you down. A full carbon arrow with 11.3 grains per inch weight means it's extremely durable for long lasting performance.
As many of you know this is the 1st generation model and quite sought after by a number of hunters who have shot the Vapor Pro's for years. Built for bows that are 65-80#, there's no messin' around with these. They are hard to beat when it comes to durability and of course at this price for a dozen you'll be braggin for years about the deal you scored.
These shafts come in the Realtree Max 1 pattern and include Vane Tec 4″ vanes with nocks and inserts also included.
Whitetail, big Muley's and Elk will regret the moment they came into your site when the Vapor Pro is nocked.
—
Got something to say about the GOLD TIP BLACKHAWK VAPOR PRO 5000 12 PACK ARROWS? Tell the world by commenting below.