TODAY'S CAMOFIRE FOOTWEAR FRIDAY LINE UP
Today we have 6 Footwear deals in the line up. Each deal will go until they sell out or until the timer reaches zero, after which the next hunting deal will arrive. Deals go fast so get ready to pull the trigger!
The hunting deals for today will include:
KENETREK TERRANE HUNTING BOOT WITH GAITER (30% off)
ROCKY MUDSOX 16 in. HUNTING BOOT (48% off)
LORPEN H.A.S. ALL SEASON HUNT SOCKS 2-PACK – XL Only (70% off)
CRISPI WILD GORETEX HUNTING BOOT (41% off)
LORPEN HEP PRIMALOFT HEAVYWEIGHT TALL BOOT SOCKS (70% off)
ROCKY LYNX GORETEX 8 in. INSULATED HUNTING BOOT (50% off)
Today's First Shooter – KENETREK TERRANE HUNTING BOOT WITH GAITER
Suggested Retail Price: $339.99
Camofire Price: $239.00 – 30% OFF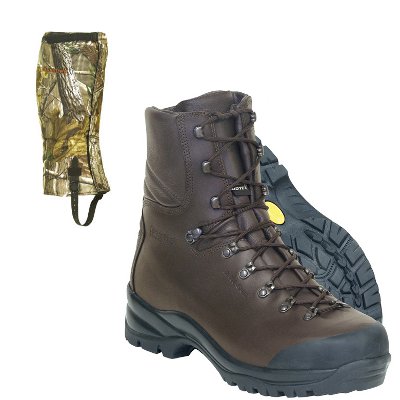 Description:
The first time you lace up the Kenetrek Terrane Boot you will know you made a great decision. Being 8″ tall they provide excellent support and durability for any outdoor application. You will be amazed at the comfort of this boot due to the extra padded soft collars along with a special flex notch upper design.
No one likes hunting with cold and wet feet so the Terran boot offers a waterproof, breathable Windtex membranes that keep your feet completely dry while the 400 grams of Thinsulate Insulation keeps your feet warm when the weather gets nasty. With 2.6mm premium full grain leather uppers and a one piece vamp design meaning there is no stitching at the tongue to come loose or allow moisture to penetrate these boots were made for heavy use. Great traction and long wear are assured with the Eurosuole Everest rubber outsoles.
Not only will you receive the Terrane boots when you "pull the trigger" you will also get a pair of Kenetrek Gaiters. These gaiters are contoured to fit securely over any boot with a wide, full length, hook and loop closure that opens with ease from the front. If you have never worn a pair of gaiters while hunting in snow or rugged brush, you are missing out! Hands down gaiters are a essential item for hunting snow covered or bruch infested mountains.
You have all heard the expression killing two birds with one stone, so "pull the trigger" one time and get two amazing items from Kenetrek.
—
Got something to say about the KENETREK TERRANE HUNTING BOOT WITH GAITER? Speak your mind by commenting below.