EASTON ST EPIC FULL CARBON ARROWS WITH QUICKSPIN VANES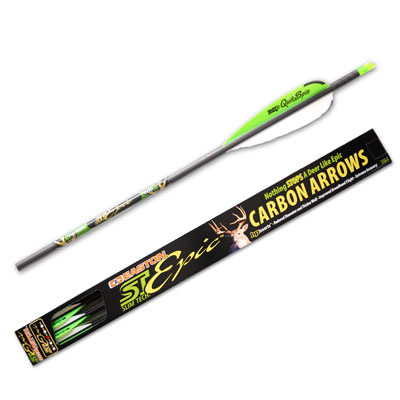 Product: EASTON ST EPIC FULL CARBON ARROWS WITH QUICKSPIN VANES
Regular Retail Price: $99.99
Camofire Price: $48.86- 51% OFF
Description:
When you let an arrow fly you're banking on the fact that you'll get solid penetration, high kinetic energy and an arrow flight that isn't going to easily drift because of the wind. Your search ends here with the ST Epic carbon arrow from Easton. It has the advantage of a smaller diameter arrow with a thick wall and HP inserts that add a higher level of accuracy in a durable carbon arrow.
Yes, skinny is better in this case and Easton's technology packs a punch that will bring down any big game. Greater strength, accuracy and durability begins with the Easton ST Epic.
—
Got something to say about the EASTON ST EPIC CARBON ARROWS? Tell the world by commenting below.