CAMOFIRE RELOADED!
We've got number of hunting deals coming your way today that will be at 40%-70% off, featuring hunting gear from EASTON, AMERISTEP, BIG AGNES, GEORGIA, MOTHWING, BEMAN to name a few. Be sure to use the arrows to check out all of the Reloaded deals available. Get ready to pull the trigger!
Some of the Camofire Reloaded deals for today will include(not in this particular order):

EASTON AXIS N-FUSED FULL METAL JACKET ARROW SHAFTS
FINAL APPROACH ELIMINATOR CARGO BLIND
WILDGAME INNOVATIONS RAZOR M6 INFRARED TRIAL CAMERA
KLYMIT STATIC V FULL SIZED SLEEPING PAD
LONE WOLF BONE SAW
EASTON THE HINSCH WAIST PACK WITH SHOULDER SUSPENSION
THE BACKSIDE ALTI-PAK 60 L BACKPACK
CORE4ELEMENT TORRENT RAIN PANT
CORE4ELEMENT 2012 TORRENT RAIN JACKET
GEORGIA BOOT CEDAR FALLS MOC-TOE SLIP ON
THE BACKSIDE T-1 4 PERSON BACKPACKING TENT
BULLDOG DELUXE NEOPRENE PADDED GUN SLING
BEMAN ICS CAMO HUNTER DOZEN ARROWS
THE BACKSIDE BACKSTUFF BACKPACK
MOTHWING PEAK ENDURANCE BOXER
AMERISTEP ROCKHOUSE GROUND BLIND
BIG AGNES GUNN CREEK INTEGRITY FILL 30 DEGREE SLEEPING BAG
BIG AGNES JACKRABBIT SL 4 PERSON TENT
…and many more deals!
Today's First Shooter – EASTON AXIS N-FUSED FULL METAL JACKET ARROW SHAFTS
Suggested Retail Price: $124.99
Camofire Price: $64.99 – 48% OFF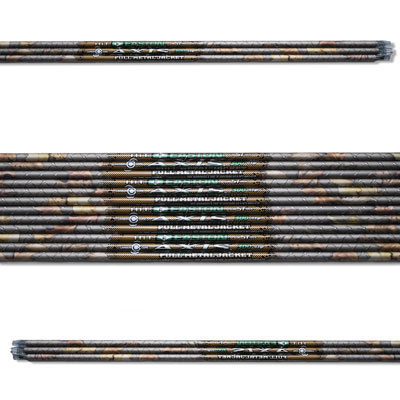 With a guaranteed straightness of .002″ and a weight tolerance of +/- 2 grains, the Easton Axis Full Metal Jacket (FMJ) with N-fused carbon is a pure hunting arrow. Thanks to the low-glare, hard-anodized diamond pattern finish when you're practicing all summer you'll enjoy easy target pull while your buddies struggle with their full carbon arrows.
The FMJ is a hard hitting arrow that has a N-fused carbon core that is fused to the Easton alloy metal jacket for a combo that results in a small diameter shaft that is second to none. X-Nocks come installed and H.I.T. inserts with epoxy kit is included. Core fused to full metal jacket for maximum penetration. The arrow of choice for the Camofire crew with successful kills since 2010, the FMJ is a solid flying and hitting arrow.
—
Got something to say about the EASTON AXIS N-FUSED FULL METAL JACKET ARROW SHAFTS? Speak your mind by commenting below.