Front View of the Turkey Chair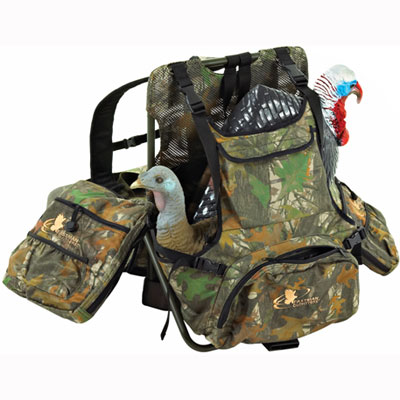 Back View of the Turkey Chair

Product: EASTMAN LAZY LOUNGER DELUXE TURKEY CHAIR SYSTEM
Regular Retail Price: $89.99
Camofire Price: $35.95 – 60% OFF
Description:
There's nothing that can make a day of turkey hunting go bad like sitting on the hard ground or spending the entire day with your back against a tree. Especially when you don't have to.
The Lazy Lounger Deluxe Turkey Chair from Eastman is a pack with padded shoulder straps for hauling in your gear as well as a chair for making the day comfortable and organized. Two side organizer pouches can be removed or attached via clips while the back has a game/decoy pocket and two other pockets for gear storage.
The frame is a very sturdy metal which acts much like a lounge chair with a relined back and a support under the pack.
A 3″ foam will keep your butt from going to sleep after 15 minutes of waiting for the big tom to come in.
Perhaps your turkey hunt is winding down or it could be getting started – either way make the hunt as comfortable and organized as possible with the Lazy Lounger from Eastman Outdoors.
—
Got something to say about the EASTMAN LAZY LOUNGER DELUXE TURKEY CHAIR SYSTEM? Tell the world by commenting below.