DOUBLE HEADER Today we're running 2 items and each will go for 12 hours or until the first one sells out then the second one will start.
Today's Double Header
SOG SH-02 TABLE TOP KNIFE SHARPENER (57% off)
CYCLOPS R3 27oz STAINLESS STEEL WATER BOTTLE (64% off)
Today's Featured Gear: SOG SH-02 TABLE TOP KNIFE SHARPENER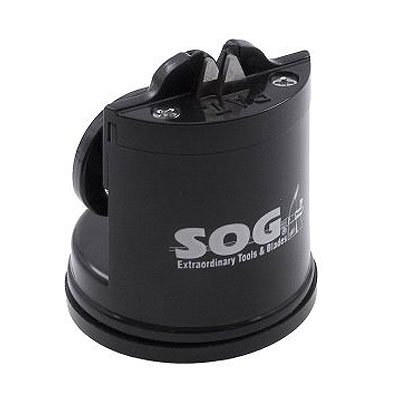 Suggested Retail Price: $25.75
Camofire Price: $10.97 – 57% OFF
Description:
Knife sharpening has come a long way and SOG is pushing the limits on ease of use and quality in the SOG Table/Countertop Sharpener. With the season coming up there's no reason to head out into the mountains without a sharp knife. One flip of the patented suction cup lever and you'll be surprised how bomber the sharpener attaches to any non-porous flat surface.
And the edge it produces? We tried it on our pocket knives and with a few easy strokes the blades were surprisingly sharp, and the sharpener didn't move at all. A very solid and stable sharpener that delivers a reliable edge every time will have you claiming the SOG sharpener is your new best piece of gear.
—
Got something to say about the SOG SH-02 TABLE TOP KNIFE SHARPENER? Tell the world by commenting below.