DOUBLE HEADER Today we're running 2 items today. The first one will run until 1pm MST and the second will then start and run until 11pm MST.
Today's Double Header
GORILLA GOBBLER PACK (65% off)
CORE4ELEMENT PIVOT BASELAYER SHIRT (53% off)
Today's Featured Deal: GORILLA GOBBLER PACK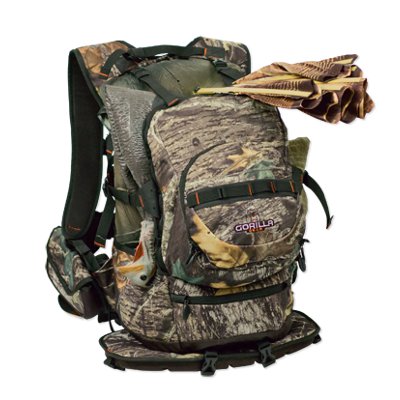 EXTRA ITEM: Core4Element Talus Belt at 54% OFF
Suggested Retail Price: $149.95
Camofire Price: $52.75 – 65% OFF
Description of the First Deal TOday:
When the snow starts melting and the toms start gobbling be ready for the chase with the Gorilla Gear Gobble Pack. With 1900 cubic inches of storage this pack will take you from ridge to ridge from sun up to sun down with a day's worth of gear. Made of Hi-tech Tricot material this 4 lb packs is lightweight and silent.
With 9 storage compartments including one large adjustable game/decoy compartment and 4 interchangeable waist compartments for game calls being organized is easy. The backrest, waist belt, and shoulder straps are padded for exceptional load carrying comfort. A bow/gun holder, a highly durable outdoor XPE foam seat, and a hydration port are added features that are second to none in the field.
Once you are successful a blaze orange pull-out will make you aware to other hunters. For hardcore turkey hunting you need a hardcore pack, the Gorilla Gear Gobbler Pack is a top choice your next gobbler hunt.
—
Got something to say about the GORILLA GOBBLER PACK? Tell the world by commenting below.