DOUBLE HEADER Today we're running 2 items and each will go for 12 hours or until the first one sells out then the second one will start.
Today's Double Header
CRKT Full Throttle Knife
Gold Tip Vapor Pro Arrows
Today's First Hunting Gear: CRKT KOMMER FULL THROTTLE ASSISTED OPENING KNIFE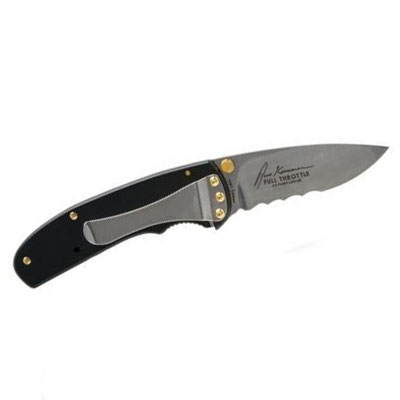 Suggested Retail Price: $79.99
Camofire Price: $31.52 – 61% OFF
Description:
Been looking for that perfect every day carry knife that looks good, is easy-in-easy-out of the pocket, has a rippin' sharp combo blade and fits and rests perfectly in your hand? Welcome to the CRKT Full Throttle.
Once you open this polished combo knife blade to 30 degrees the Outburst assisted opening whips it to the ready position. Give it a go and you'll know it belongs in your pocket forever. The frame is a stainless steel with a lightly textured 25 micron-thick blue/black polyurethane hard enamel finish that delivers superior protection from corrosion, abrasion, and impact.
Gold-plated fasteners, blade stop pin, back spacer and dual ramped thumb studs add a distinctive custom touch. The combo edge grooves are more pronounced than your run of the mill combo blade but remain very usefull as they don't go to an extreme like the veff combo blades. All have bronze and Teflon® bearings at the adjustable blade pivot for smooth, fast action. A generous sized removable mirror-polished stainless steel clothing/gear clip gives this rugged all-metal work knife great versatility for carry in pockets or on belts and pack straps.
From the city to the hills, the Full Trottle may become your new favorite personal knife.
—
Got something to say about the CRKT KOMMER FULL THROTTLE ASSISTED OPENING KNIFE? Tell the world by commenting below.