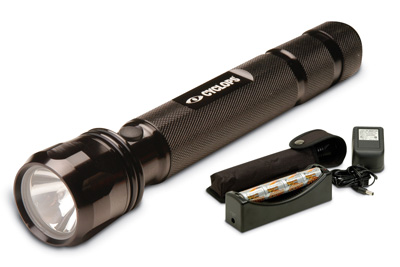 Product: CYCLOPS XRF XENON ALUMINUM RECHARGEABLE FLASHLIGHT
Regular Retail Price: $119.99
Camofire Price: $35.10 – 71% OFF
Description:
You know when they start measuring the brightness of a flashlight in lumens that it's powerful. Does looking directly at the sun conjure up any sensations? You'll get the same from the Cyclops XRF Xenon Aluminum Flashlight if you were to look into this bad boy.
Not only does it compete with the sun on brightness, it's an ultra durable flashlight made to stand up to harsh conditions with a strong aluminum that has a corrosion resistant finish. With a 90 minute burn time on rechargeable NiMH batteries, you'll be saving money each time you re-charge. Batteries and charger are included.
Whether for tactical use, hunting, or just having a high powered light in your truck or shop this light is hard to beat.
—
If you can't shoot the deer, you could always blind it with the XRF Xenon Flashlight and then when the deer is blinded you could run up to it and thump it over the head with the light. This has YouTube video written all over it.
Got something to say about this flashlight? Comment below.