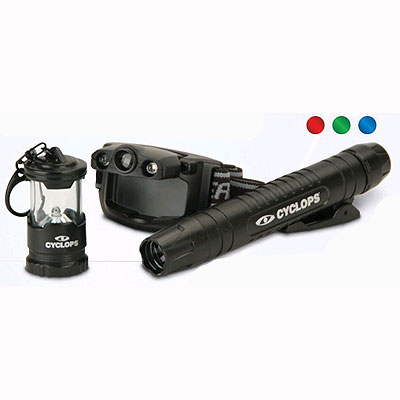 Product: CYCLOPS FIELD LIGHTING KIT
Regular Retail Price: $49.99
Camofire Price: $18.75 – 62% OFF
Description:
When you're in the field or deep into the woods having the proper lighting system can make the difference. With the Cyclops Field Lighting Kit the possibilities are limitless. 3 different lights are included in this kit; A Tri-Mode LED lightweight headlamp, a Dual Mode LED mini-lantern and a 1 Watt LED Clip Flashlight that includes 3 different color lenses.
If you're shaving ounces the headlamp will become your go to light for backpacking trips. It has 3 lighting control modes with dual red LED bulbs and a central white LED. The red lights are best for camp, tree stand or trail situations when you can't give away your position but need some light.
The LED lantern is the perfect in-tent light for reading or prepping your gear for the next day's hunt.
The LED Clip Flashlight comes with a nylon carry pouch and at 1 watt will give you ample light. Clip it on the brim of a hat or elsewhere for steady light. It comes with the three lenses.
Cover the bases with one set and put your camp and hunt light needs behind you.
—
Got something to say about the CYCLOPS FIELD LIGHTING KIT? Tell the world by commenting below.