ANNOUNCEMENT: This is the third deal of many that will be coming up today, December 17. When this deal sells out, the next will come up, then the next, and the next….all day long.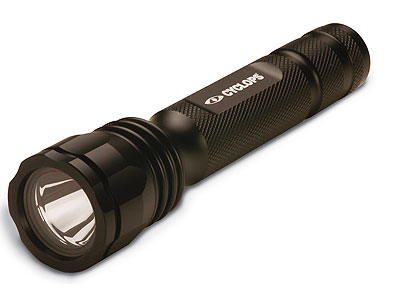 Product: CYCLOPS 3WF 3 WATT LUXEON LED ALUMINUM FLASHLIGHT
Regular Retail Price: $79.99
Camofire Price: $23.15 – 71% OFF
Description: The Cyclops 3 Watt LED Aluminum Flashlight is a solid performer that measures up to lights much bigger.
It delivers 80 Lumen, relying on 2 Lithium batteries which are included with the flashlight. It has a rear located on/off switch and the light is encased with a strong and durable aluminum shell.
A BONUS ITEM with this flashlight are 3 colored lenses which transform this light into a night light with a red lens cover and into a blood tracker with the blue and green lenses.
—
With Christmas coming picking up two of these will make you and your hunting buddy both very happy.
Got something to say about this flashlight? Comment below.