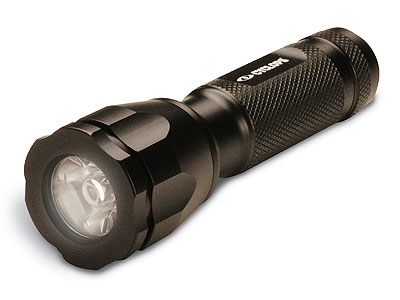 Product: CYCLOPS 1WF 1 WATT LUXEON LED FLASHLIGHT
Regular Retail Price: $49.99
Camofire Price: $15.49 – 69% OFF
Description: Sometimes little items can pack a punch, like this Cyclops 1WF 1 Watt Luxeon LED Flashlight. Don't be fooled by the smaller size.
The 1 Watt bulb is 10x more powerful than standard LED lights and delivers 30 lumen worth of powerful light. It runs on a 3V lithium battery which is included.
Another BONUS ITEM with this flashlight are 3 colored lenses which transform this light into a night light with a red lens cover and into a blood tracker with the blue and green lenses.
—
This little sucker packs a punch.
Got something to say about this flashlight? Comment below.