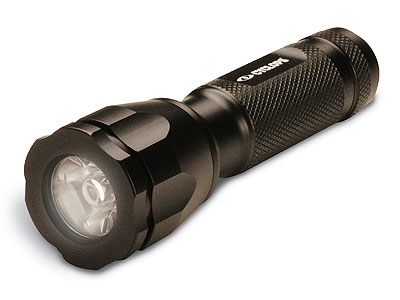 Product: CYCLOPS 1WF 1 WATT LUXEON LED FLASHLIGHT
Regular Retail Price: $49.99
Camofire Price: $16.79 – 66% OFF
Description: Sometimes little items can pack a punch, like this Cyclops 1WF 1 Watt Luxeon LED Flashlight. Don't be fooled by the smaller size.
The 1 Watt bulb is 10x more powerful than standard LED lights and delivers 30 lumen worth of powerful light. It runs on a 3V lithium battery which is included.
Another BONUS ITEM with this flashlight are 3 colored lenses which transform this light into a night light with a red lens cover and into a blood tracker with the blue and green lenses.
—
My buddy Justin was wishing he had one of these when he shot an elk in November just as the sun went down. Not only for easier tracking of the elk but also for quartering it since his headlamp died on him after 30 minutes.
Got something to say about this flashlight? Comment below.