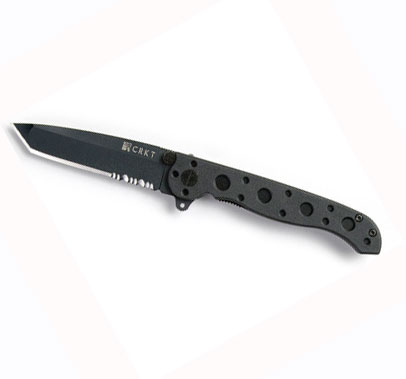 Product: CRKT M16 ZYTEL EDC TANTO POINT KNIFE
Regular Retail Price: $49.99
Camofire Price: $16.79 – 66% OFF
Description:
The M16-10Z Every Day Carry knife has a tactical knife look and all the features of a knife that is put through the demands of nearly any application you can think of. It's very light weight at just 2.3oz but don't let that fool you – this knife is tough and built to last.
Made with a dual hollow grind Tanto-style blade with Combined Razor-Sharp and Triple-Point Serrated edges that is similar to the "big dog" models, this knife has maximum blade strength and the ability to saw through cord, webbing, nets or vegetation very quickly.
It has the same solid frame and hardware of the more expensive big knives and also features the auto LAWKS patented design that gives it a lock position for safety and comfort. The clip is great for attaching to a backpack strap or your pocket so you can easily access the knife and it won't be misplaced.
CRKT makes some of the best knives around.
—
Got something to say about the CRKT M16 ZYTEL EDC TANTO POINT KNIFE? Tell the world by commenting below.
FYI – here is a link that talks about Zytel and its features – Zytel on Wikipedia