First Item for Today: CRKT M16 SPECIAL FORCES TACTICAL KNIFE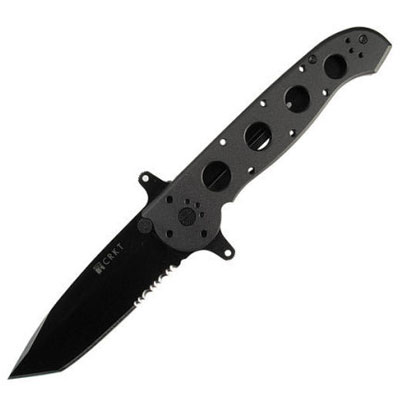 Regular Retail Price: $129.99
Camofire Price: $54.96 – 58% OFF
Description:
The CRKT M16-14SF Big Dog Aluminum is a hefty utility version with a 3.875″ dual grind Tanto blade and full-size handle with butt pommel. The aluminum InterFrame build Special Forces folding knives share a unique design offering a combination of Carson M16 Series features requested by military procurement specialists.
The dual grind Tanto blades were specified because they offer maximum strength. The open build allows two Carson Flippers to be incorporated which results in a true hilt which is very rare in folding knives. Blade, frame and hardware are non-reflective tactical black. The blade receives a black titanium nitride coating for maximum corrosion resistance. One-hand opening and closing is quick and smooth. It features the CRKT exclusive patented AutoLAWKS™ which turns the folder into a virtual fixed blade automatically.
The aluminum frame features contoured scales of hard anodized aluminum for a comfortable grip with or without gloves making it a workhorse of a knife. Add to that the combined razor-sharp and Triple-Point™ Serrated edge and you'll be impressed from the moment you flip this beauty open.
This is a special knife designed by the military for special forces use but we're bringing it to the every day citizen.
—
Got something to say about the CRKT M16 SPECIAL FORCES TACTICAL KNIFE? Tell the world by commenting below.