Today's First Item: CRKT LIFT OFF KNIFE – Available in Straight or Partially Serrated blades
Regular Retail Price: $79.99
Camofire Price: $34.60 – 57% OFF Retail
Straight Edge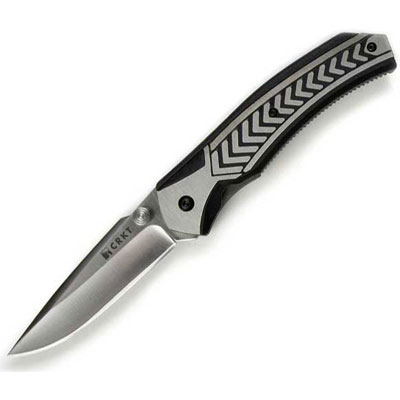 Description:
The Lift Off is the big brother to the pint sized Lift Off 2, and is a new sport and work folder that embodies everything that is built into a CRKT knife: rugged construction, premium blade steel, good grip and balance, striking design with a superfast assisted opening. Ideal for daily personal carry, this knife is for those who want a bit of style and shine in their personal carry but solid function without question or doubt. But this knife with its 4 inch blade will be a life saver when it comes time to cape out your deer or elk.
At its core is the InterFrame build with stainless steel liners, one locking, with textured black Zytel scales. The left scale features a stainless steel insert with a bright brushed finish and deep arrow pattern. In addition, both liners feature fine friction grooves at the finger contact zone. The blade is a satin-finished modified drop point design with a notched and wedged top edge and a high hollow grind.
Lastly, open the premium stainless steel alloy blade with the CRKT patented outburst assisted opening system engaged from the thumb stud button and you're ready to put to use this one of a kind knife.
—
Got something to say about the CRKT LIFT OFF KNIFE? Tell the world by commenting below.