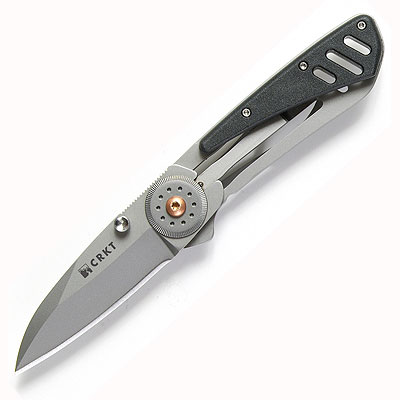 Product: CRKT HUG KNIFE
Regular Retail Price: $49.99
Camofire Price: $18.99 – 62% OFF
Description:
Ed Halligan's original two-piece K.I.S.S. (Keep It Super Simple) money clip knife was such a sensation for nearly a decade that he followed it up with the Halligan's Ultimate Gadget (H.U.G.™). It's virtually as small, simple and lightweight as the K.I.S.S., but so much more sophisticated and versatile. The H.U.G. is a frame-lock folder with a single-sided 2.30" blade that has a modified spear point with a single-side grind which seals against the frame. It is more useful for the type of pen knife tasks most hunters will give the knife.
Blade material is high-carbon stainless steel in a bead-blast finish. Just the same, the frame is a bead-blast high-carbon stainless steel with an ingenious internal frame lock. A single Zytel® scale makes the handle fit the hand better, and also helps prevent the blade from accidental opening. A finger coil on the bottom of the frame and friction grooves at the thumb area make for a more secure grip, and give more comfort during extended use. A compact custom stainless steel pocket/money clip makes this a handy and useful personal carry in all situations.
—
Got something to say about the CRKT HUG KNIFE? Tell the world by commenting below.