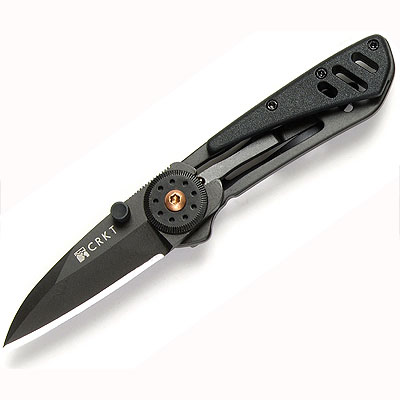 Product: CRKT HUG 2 KNIFE
Regular Retail Price: $49.99
Camofire Price: $19.93 – 60% OFF
Description:
The H.U.G. 2 from CRKT is a smaller version but equal in quality to the popular H.U.G knife and could very well be the perfect carry every day knife. It's a frame-lock folder with a single-sided blade. With a 1.78" blade and an overall length of 4.5″ this little gem weighs in at only 1.5 ounces and will fit in any pocket or even a purse for the ladies. It's a handy pen knife, money clip and emergency knife all in one.
This version is the dark non-reflective black titanium nitride blade and frame coating which includes a black hardware and a black Teflon®-plated clip. The knife uses an ingenious internal frame lock with a Zytel scale that helps prevent the blade from accidentally opening.
A finger coil on the bottom of the frame and friction grooves at the thumb area make for a more secure grip, and give more comfort during extended use. It may be small in size but it's tops on quality and function.
—
Got something to say about the CRKT HUG 2 KNIFE? Tell the world by commenting below.