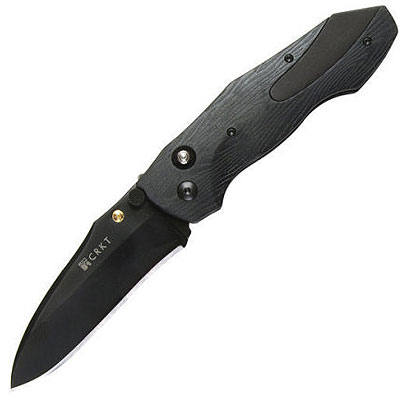 Product: CRKT ELISHEWITZ ANUBIS KNIFE
Regular Retail Price: $119.99
Camofire Price: $49.49 – 59% OFF
Description:
Like the jackal-headed Egyptian god Anubis who stands above the norm, the Anubis knife created by Allen Elishewitz for CRKT shows its lineage as an Elishewitz shape, with the benefits of advanced technology that CRKT is well known for. The blade shape has a pronounced drop point, long spine and a high hollow grind that gives you strength and cutting power especially nice for de-boning that 360 class bull elk you've been scouting. To keep its edge CRKT used AUS 8 stainless steel.
Regardless of the miles you put on this knife the Teflon and brass bearings at the blade pivot assure fast either-hand opening. Once open the blade locks but to be certain and sure while in use CRKT included a version of their patented* AutoLAWKS™ automatic safety giving maximum security against accidental closing. To fold the knife, you must pull back the safety lever and press the button at the same time, making accidental release during vigorous use just about impossible.
The design also features an unusual open build with a Zytel® spine back spacer that allows easy cleaning of the blade groove.
Everything about the Anubis shouts strength and originality – much like the Anubis of Egypt. Don't just carry a normal knife on your next hunt or around town, get one that will prove to be a lifetime knife.
—
Got something to say about the CRKT ELISHEWITZ ANUBIS KNIFE? Tell the world by commenting below.