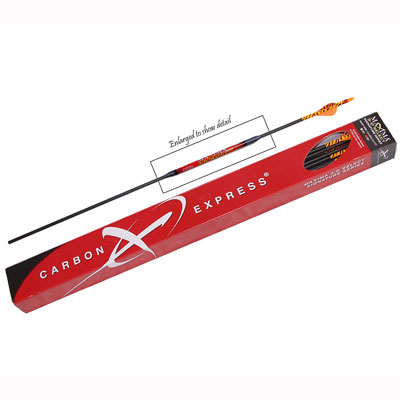 Product: CARBON EXPRESS MAXIMA 3-D SELECT DOZEN ARROWS
Regular Retail Price: $179.99
Camofire Price: $84.50 – 54% OFF
Description:
The Maxima® 3-D Select Signature Series arrows from Carbon Express represents the straightest arrow in the Carbon Express line up with a maximum tolerance of +/- .001". Add to that an full carbon shaft that is engineered to be ultra tough and it comes in at 8.2 grains per inch…this adds up to one of the best arrows you can get on the market.
BuffTuff Plus is the construction that adds exceptional strength, not to mention the BullDog nock collars that bring extra durability. Each arrow is custom made with tiger stripe arrow wraps and tiger Blazer Vanes for added velocity. The spine is selected for greater consistency and improved down-range accuracy.
Basically if you're hunting with these arrows and you don't get a kill you can blame the gear. Get the best and increase your odds with the Maxima 3D Select Arrows.
—
Got something to say about the CARBON EXPRESS MAXIMA 3-D SELECT SIGNATURE SERIES ARROWS? Tell the world by commenting below.