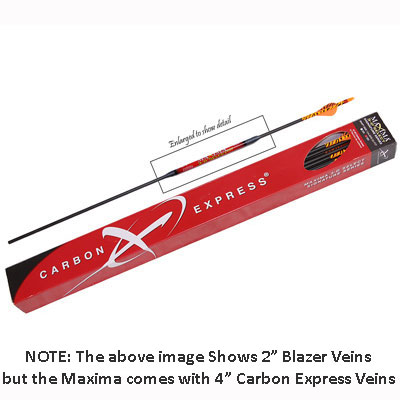 Product: CARBON EXPRESS MAXIMA 12 PACK ARROWS
Regular Retail Price: $179.99
Camofire Price: $76.99 – 56% OFF
Description:
The Maxima Series is the Carbon Express premium line of strong, lightweight, 100% carbon hunting arrows. The Maxima is much like the 3D Select with just a slightly less tolerance for straightness at .002 vs. the .001 of the 3D. Otherwise it's built very similar in quality, strength and performance, not to mention some of the lightest arrows on the market.
The precision designed Maxima is stronger, faster and offers tighter tolerances than traditional carbon arrows. These arrows are Spine-Selected™ for consistency and straighter shooting and feature BullDog™ Nock Collars for added strength and protection. This model features Carbon Express 4″ Vanes and come in a 12 pack.
Basically if you're hunting with these arrows and you don't get a kill you can blame the gear. Get the best and increase your odds with Carbon Express Maxima Arrows.
—
Got something to say about the CARBON EXPRESS MAXIMA 12 PACK ARROWS? Tell the world by commenting below.