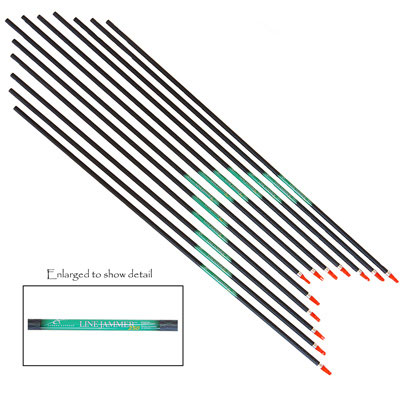 Product: CARBON EXPRESS LINE JAMMER 250 ARROWS
Regular Retail Price: $169.00
Camofire Price: $39.99 – 76% OFF
Description:
If you've not been target shooting yet this summer, you'd better get on it or come archery season you'll be cryin'. With 3D tournaments happening all over and new courses popping up there's no better arrow to give you an edge than the Carbon Express Line Jammer 250.
The large diameter Line Jammer is the best spined shaft in its class and thanks to its width you'll score better on the targets. This high-performance target shaft boasts proven success in both indoor and 3D shooting and provides maximum diameter line-cutting ability for ASA and IBO outdoors competition.
Spined at .390 with 7.5 grains per inch this is a fast and light arrow that is well suited for bows 50-75 pounds of pull (at 27″ arrows). Put a smile on your face and the advantage in your favor the next time you show up to the range or 3D course.
—
Got something to say about the CARBON EXPRESS LINE JAMMER 250 ARROWS? Tell the world by commenting below.