CAMOFIRE RELOADED
We've got number of hunting deals coming your way today that will be at 40%-70% off, featuring gear from CARBON EXPRESS, CORE4ELEMENT, SITKA, SIMMONS, SOG to name just a few. Be sure to use the arrows to check out all of the Reloaded deals available. Get ready to pull the trigger!
Some of the Camofire Reloaded deals for today will include(not in this particular order):

CARBON EXPRESS CARBRA-MAX STABILIZER
CARBON EXPRESS MACH 5 DOZEN ARROW SHAFTS
EBERLESTOCK G29 TAILHOOK PACK
BADLANDS 2200
CORE4ELEMENT MERINO BLEND BOXER BRIEF
HUNTER'S SPECIALTIES MAC DADDY HOWLER KIT
ROCKY SIQ ATOMIC BOW HUNTING GLOVES
BADLANDS IMPACT FLEECE JACKET
VOLCANO LITE BACKPACKING STOVE AND POT COOK SET
EASTON MOUNTAIN HIKE CARBON TREKKING POLES
CORE4ELEMENT MID MOUNTAIN VEST – BIG SIZES ONLY – Garage Sale Pricing!
SITKA ASCENT PANT – Large sizes only
SITKA 90% PANT – Yep, you guessed it. Big sizes only
RUSSELL LADIES EXPLORER LONG SLEEVE TEE SHIRT
SIMMONS PRO HUNTER 7MP NIGHT VISION TRAIL CAMERA
…and many more deals!
Today's First Shooter – CARBON EXPRESS CARBRA-MAX STABILIZER – Available in Black or Camo
Suggested Retail Price: $41.99
Camofire Price: $19.99 – 52% OFF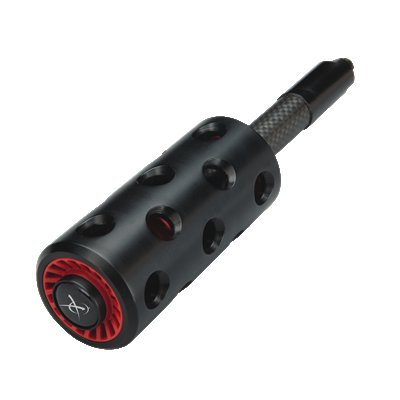 A combination of a carbon woven tube with an outer aluminum tube weight and three ribbed rubber modules make the Carbon Express Carbra-Max Stabilizer the perfect stabilizer for any bow. The Carbra-Max will dramatically reduce bow shock and vibration giving you that smooth release every shot.
The rubber modules also dampen vibration waves in all directions, creating less hand torque and a quieter bow. Quiet your bow and reduce vibration with the Carbon Express Carbra-Max Stabilizer.
—
Got something to say about the CARBON EXPRESS CARBRA-MAX STABILIZER? Speak your mind by commenting below.