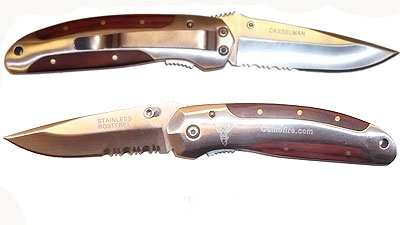 Product: CAMOFIRE CASSELMAN ROSEWOOD POCKET KNIFE
Regular Retail Price: $54.95
Camofire Price: $22.99 – 58% OFF
Description: A quality pocket knife can be seen in the quality of the blade and the way it feels solid in your hand. You'll know this is no run of the mill pocket knife when you hold it for the first time.
The Camofire Casselman Rosewood Pocket Knife has both. Crafted with German quality Rosfrei stainless steel for the blade and a solid hinge mechanism, this knife is built to last for years. The blade is 3″ long and the handle is 4″ long for a total of 7″ when opened.
Skinning game, cleaning fish or just for carving up a willow around the campfire, this knife is worthy of the Camofire name. Choose between a muley or an elk image on the knife.
—
Got something to say about this pocket knife? Comment below.