CANADIAN SHIPPING ANOUNCEMENT – COMBINED SHIPPING
We've heard you loud and clear for far too long, our good friends and customers to the north. It's time for you to enjoy Combined Shipping, just as the US customers. Starting today, Canadian shipping will be available in the shopping cart. For details please visit the Shipping Policy page
CAMOFIRE RELOADED
We've got number of hunting deals coming your way today that will be at 40%-70% off, featuring hunting gear from BOHNING, CORE4ELEMENT, ROCKY, BADLANDS, BEMAN, KLYMIT to name a few. Be sure to use the arrows to check out all of the Reloaded deals available. Get ready to pull the trigger!
Some of the Camofire Reloaded deals for today will include(not in this particular order):

BOHNING CHAMELEON 3-ARROW DETACHABLE BOW QUIVER
KLYMIT CUSH INFLATABLE BACKCOUNTRY PAD
CORE4ELEMENT 2012 CAMO MERINO 190 1/4-ZIP TOP
MONTANA DECOY ANTELOPE BUCK DECOY
BOHNING CHAMELEON 5-ARROW DETACHABLE BOW QUIVER
CORE4ELEMENT ELEMENT PANT
ROCKY L2 ATHLETIC MOBILITY PRIMALOFT 400 GRAM INSULATED BOOT
BADLANDS MAG GEAR BAG
BADLANDS ELEMENT BASE LAYER TOP
BEMAN ICS CAMO HUNTER DOZEN ARROWS
LORPEN JR HUNT MERINO WOOL SOCKS 2-PACK
BADLANDS VIPER DUFFEL BAG
ZEISS CONQUEST 3.5-10X44 RIFLESCOPE
AMERISTEP CHAMP ALUMINUM HANG-ON TREESTAND
…and many more deals!
Today's First Shooter – BOHNING CHAMELEON 3-ARROW DETACHABLE BOW QUIVER – Availavble in many camo patterns
Suggested Retail Price: $42.99
Camofire Price: $15.99 – 63% OFF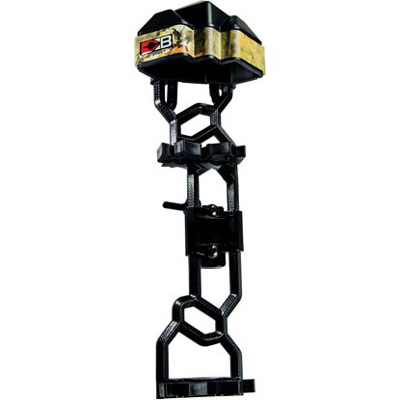 The Bohning Chameleon 3-Arrow Bow Quiver is a revolutionary quiver that lets you choose what camo pattern wraps your quivers hood. Each quiver comes with 2 plates, 1 camo and 1 carbon fiber. It is an easy on-easy off quiver that is silent and features a secure soft snap mounting. The arrow locking feature keeps arrows in place even while walking in the thickest of brush. Soft shell hood dampens vibration and provides silent protection for any style of broadhead.
The high impact polycarbonate stem provides strength while decreasing weight. A built on hook allows easy hanging while hunting from a treestand. A quiver that will have you covered no matter what terrain your hunting the Bohning Chameleon bow quiver is truly a chameleon on your bow.
—
Got something to say about the BOHNING CHAMELEON 3-ARROW DETACHABLE BOW QUIVER? Speak your mind by commenting below.