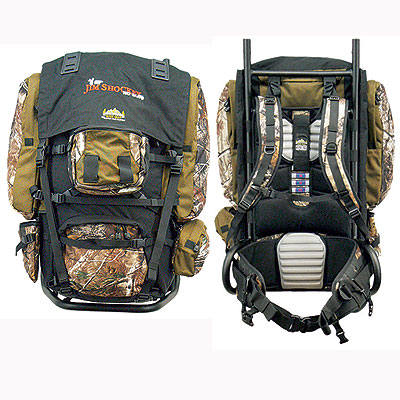 Product: BLACKS CREEK JIM SHOCKEY YUKON FRAME PACK
Regular Retail Price: $399.99
Camofire Price: $179.00 – 55% OFF
Description:
If Jim Shockey puts his name to anything you know it's been put through the ringer and is tough as nails. Jim gets after it and when going deep into the mountains and the need to carry your camp on your back is there, the Blacks Creek Yukon Frame Pack carries his name and his gear. This is one of the most durable and tough packs on the market.
Adjust the frame to fit most any torso size including the suspension system which will increase comfort. If you need to you can even remove the pack from the frame when you're hauling an elk or deer out of the woods.
Pockets are all over the place with a side pocket that is built for carrying a rifle, or muzzle loader like Jim prefers so often. There is a sleeping bag pocket on the bottom. Swing away side pockets can carry guns, tripods or other items. This pack will last longer than you and will carry everything including the kitchen sink.
—
Got something to say about the BLACKS CREEK JIM SHOCKEY YUKON FRAME PACK? Tell the world by commenting below.