BADLANDS UPLAND GAME VEST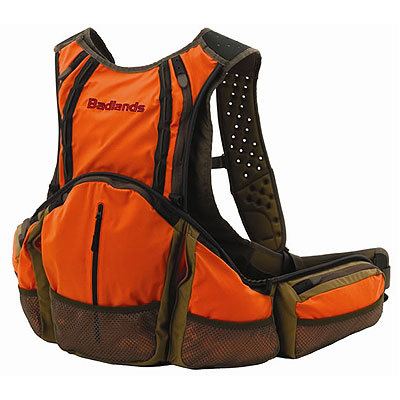 Product: BADLANDS UPLAND GAME VEST
Regular Retail Price: $139.99
Camofire Price: $72.99 – 48% OFF
Description:
Badlands has always pushed the edge in design, functionality and features and the all new Badlands Upland Game Vest is no exception. For starters, the term "vest" is used loosely as this "vest" carries as well if not better than 90% of the packs on the market. Don't be surprised if you use it for more than upland.
That said, this "vest" is amazingly lightweight at 2.5 pounds given the fact that it's littered with pockets, 7 to be exact. Accessories, shells, a spare jacket, food all carries well including a large game pouch that is ventilated but also sealed off with welded seams to keep you dry. Hydration compatibility keeps you going (hydration bladder not included) all day and the pack, uuhhh vest, carries so well you may forget you've got it.
The shell pockets move along the waist belt to be out of the way when you're walking, but slide into place when you need to reload. Improve your game with the most versatile upland game vest (pack) you've ever seen.
—
Got something to say about the BADLANDS UPLAND GAME VEST? Tell the world by commenting below.