CAMOFIRE.COM TEE SHIRT CONTEST
Aside from simply wanting to bring back the Christmas Special of the Camofire.com Logo T, we're also launching a Camofire Logo Tee Shirt Contest on our Facebook page. Once you get your logo shirt, take a picture of yourself doing anything you want (keep it PG) anywhere you want and post it to our Facebook page. We'll be giving away prizes over the coming weeks.
Today's First Deal: CAMOFIRE PULL THE TRIGGER LOGO TEE SHIRT
Regular Retail Package Price: $19.99
Camofire Price: $4.49 – 78% OFF Retail
Black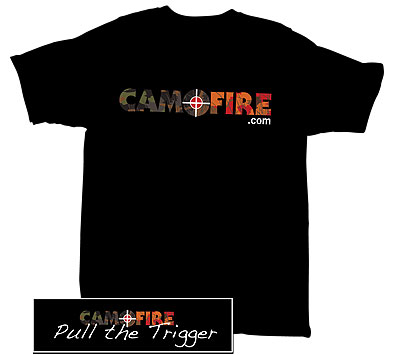 Charcoal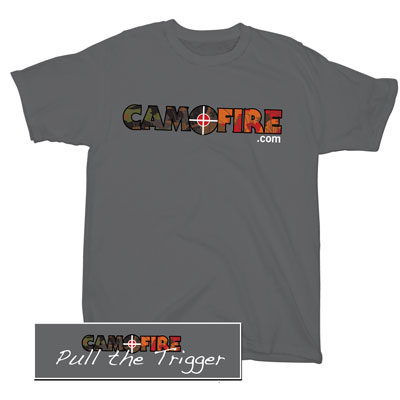 Prarie Dust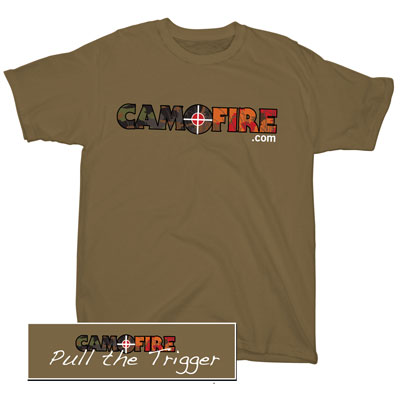 Description:
Many have asked for Camofire logo tees so we're bringing them to you at a price that's inline with the Camofire mantra. At this price it's shameful to only get one but we also hope that if you get more than one that you keep one for yourself and give the others away to a buddy, a son/daughter, a brother or even your boss at work. He already knows about your addiction so why hide it any more? Show the world you're a Camofire.com fan by wearing the logo front and center. On the youth shirts we removed the "Pull the Trigger" from the back of the shirt to keep the kids out of trouble with the school teachers.